Our Luxury Feline Boarding Suites
Located in Grand Rapids, The Cottages at Cat Clinic North offers cat boarding so you can enjoy peace of mind while you're away.
Each feline guest has the option of staying in one of our luxury boarding suites, each with its own style and decor. These spacious themed rooms provide private accommodations for your cat family to settle in and play while you are away. You can also watch all the fun courtesy of the webcam in your cat's suite!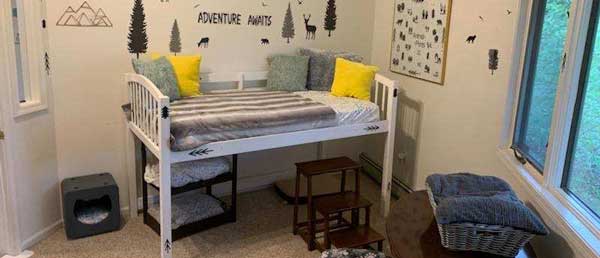 Woodland Critters: Cats will appreciate the calm serenity of nature in this outdoorsy room! Woodland Critters can accommodate up to four cats.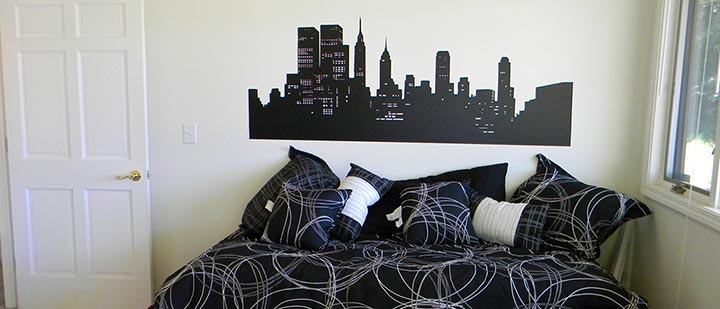 City Kitty Suite: Cats will enjoy hints of night life while quietly relaxing in this sleek room! City Kitty can accommodate up to four cats.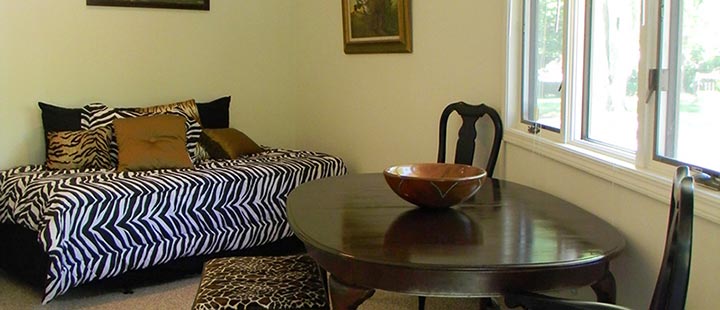 Jungle Cat Suite: Cats can get in touch with their inner feistiness in this wild room! Jungle Cat can accommodate up to five cats and is our largest room.

Feline boarders enjoy the following amenities:
Private, comfortably furnished suites, with plenty of natural light
Vertical spaces for the "tree dwellers"
Covered spaces for the "cave dwellers"
Varied enrichment: scratching posts, toys, feline-friendly sounds & music, bird feeders outside the window for entertainment
Individualized care for meals and medications
A clean, safe, & comfortable home-like atmosphere
Fresh bedding & daily housekeeping
Careful monitoring by our veterinary staff
Fresh water provided daily
Owners appreciate the convenient hours and access to the webcam to watch their kitty in its daily activities.
Feel free to bring one or two of your cat's favorite personal belongings, such as a blanket, scratching post, or toy

Our Boarding Requirements
Our boarding requirements are as follows:
Cats must be current on the following vaccines:
All cats must be free from internal and external parasites.

We require proof of a negative stool sample within the last year.
We will check for evidence of fleas at the time of check-in and treat accordingly.

All cats must be spayed or neutered.
We require proof of a negative FeLV / FIV test for all guests within the last 5 years.
Please forward your veterinary records to us via fax or email at the time of reservation.
If your cat is not current on the required vaccines, stool sample check, or FeLV/FIV test (or if they will be due during your cat's stay) please arrange for these things to be updated at your regular veterinarian in advance of your cat's boarding reservation. We can provide these services at Cat Clinic North; however, this must be scheduled in advance of your cat's boarding reservation, and is subject to appointment availability.
We look forward to your cat's vacation! Call us at (616) 364-1211 to schedule their next stay.